Ya'll, this blog is a blast and my only regret is that I did not start it sooner! My love of making food is surpassed only by my love of eating it, so this business venture is a no brainer for me. Yes, IRS, if you are reading this, I said "business." A sole proprietorship, to be exact.
The main step for turning my hobby into a business, aside for the business registration I filed with the Kings County Clerk's Office earlier this week, is attempting to make money. To that end, you may have noticed that my site now has ads. I will be tweaking them in the next few weeks (as soon as I figure out how!) to try to optimize the audience experience, but for now, I think they should be hovering around the top and bottom of each page. But don't quote me on that. As fool proof as WordPress.com is, I am still not quite proficient.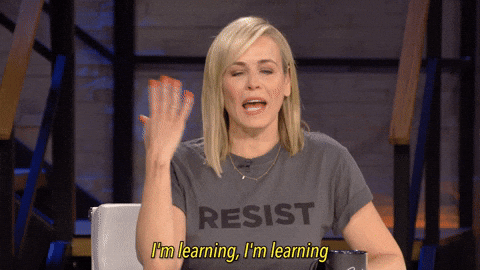 I also joined Amazon's affiliate program. Since the only things I promote are inexpensive kitchen gadgets that I own and my favorite cook books, I am sure that this will not generate much revenue. 🤷🏻‍♀️
While learning how to run Baboy Club NYC as a business, I am also dealing with more construction in my kitchen. To stay sane, I decided to turn to an old favorite of mine, risotto, because it is super easy to make and is the culinary equivalent of a cozy night in. It is also the kind of dish that encourages you to cook with a glass of chilled white wine in your hand. Exactly what the doctor ordered!
Risotto was one of those things I just assumed I could not make at home until I bought Alice Waters's The Art of Simple Food (here's that affiliate link I was yammering on about earlier) and learned that risotto is actually very easy. I have blogged about this book and it's sequel in a previous post and I do not think I will stop singing its praises any time soon. These books contain within in them all of the knowledge one needs to eat seasonally, and they fostered my love of vegetables.  Alice Waters is nothing short of a national treasure.
She taught me how to make risotto bianco, and encouraged me to throw in whatever tasty foods are in season! Here is my mushroom version, which I make with frozen shiitakes. They are washed and pre-cut, which makes dinner that much easier. Thank you, Alice Waters!
Easy Mushroom Risotto
32 oz. box of vegetable broth
1 10 oz. bag of frozen shiitake mushrooms (I buy Woodstock brand, available at Whole Foods and elsewhere)
1 bay leaf
4 tbs olive oil
1 small or medium onion, diced
1 cup arborio rice
1 clove garlic, diced fine
1/2 cup of dry white wine
1/3 cup grated parmesan cheese
chopped chives or parsley to garnish
salt
pepper
truffle oil (optional)
In a medium pot, heat vegetable broth and bay leaf on high heat until boiling. Once it boils, turn it off.
While broth is heating, heat 2 tbs olive oil on medium high in a wok or a risotto pot if you are fancy like that. Really, any vessel will do if the sides are high enough. Add the frozen mushrooms and a pinch of salt and pepper. Cook mushrooms until they are browned and toasted. Remove them from the wok. Set aside.
Heat 2 tbs. of olive oil in the wok and add onion with a pinch of salt. Heat on medium high until onions begin to turn translucent. Add garlic and cook until fragrant, about one minute. Add rice and cook, stirring constantly with a rubber spatula or whisk, until the very edges of the rice start to turn translucent. Do not brown the rice. It is ok if it happens, just take browning as a sign to add your liquid ASAP.
Add wine and cook, stirring frequently and scraping the bottom of the wok to keep your risotto from sticking to the bottom and burning. Cook until the wine is mostly absorbed by the rice.
The trick to knowing when to add more liquid is to listen. The gentle boiling sound will start turning into an insistent "glug glug glug." When that happens, add about 3/4 cup of the hot broth. Repeat. When the risotto starts to "glug glug glug" again, add more liquid. Keep this up till all of the liquid is in the risotto.
When you are down to the last cup or so of liquid, throw in the mushrooms and parmesan cheese.
When all of the liquid has been added and you are nearly to the glug state again, turn off the heat, cover your risotto, and let sit for 10 minutes. Serve with freshly chopped herbs and a small drizzle of truffle oil if you like it extra funky.